"Generative AI. It's at once a game changer, and an enigma. Not just in terms of massive potential, but also in driving realizable economic returns, orchestrating organizational processes and people, and securing and guard railing it."
"Visibility is table stakes for building out any AI program… it allows the CISO to quantify what is going on so they can figure out a strategy. It becomes the genesis for how you solve the problem in the organization."


"Security for Generative AI capabilities requires a different approach – we have to rapidly enable our people to reap its rewards in productivity while reducing the new and unique risks Generative AI creates."


YOU CAN'T UNLEASH
WHAT YOU CAN'T SEE.
INGENUITY BUILT ON UNRIVALED VISIBILITY.
Portal26 is the foundational solution for organizations who want to accelerate their Generative AI program to improve productivity and competitiveness. Our real-time visibility into enterprise wide GAI use becomes the touchstone for for benchmarking, strategy, governance, security, monitoring and education.
Responsible AI is Built with
Responsible Data
Apply granular data privacy controls to data training data and pipelines. Use the industry's richest data security and privacy platform to retain encryption while selecting and extracting model training data from production data.
Stay Ahead of The Curve on Generative AI
Leverage these useful reports and blog posts on how to rapidly,
responsibly and securely enable Generative AI in your organization.
Download Our Latest Gartner Report
4 Ways Generative AI Will Impact CISOs and Their Teams
Supercharge Your Enterprise's Generative AI Investment With Portal26
Arti Raman Of Portal26 On the Future of Artificial Intelligence

Portal26 Recognized in Gartner® 2023 Innovation Guide for Artificial Intelligence Trust, Risk, and Security Management
Portal26's Neil Cohen on the State of Generative AI 2023 Survey
Security leaders on high alert as GenAI poses privacy and security risks

Breakdown: What Companies Need to Know About Biden's AI Executive Order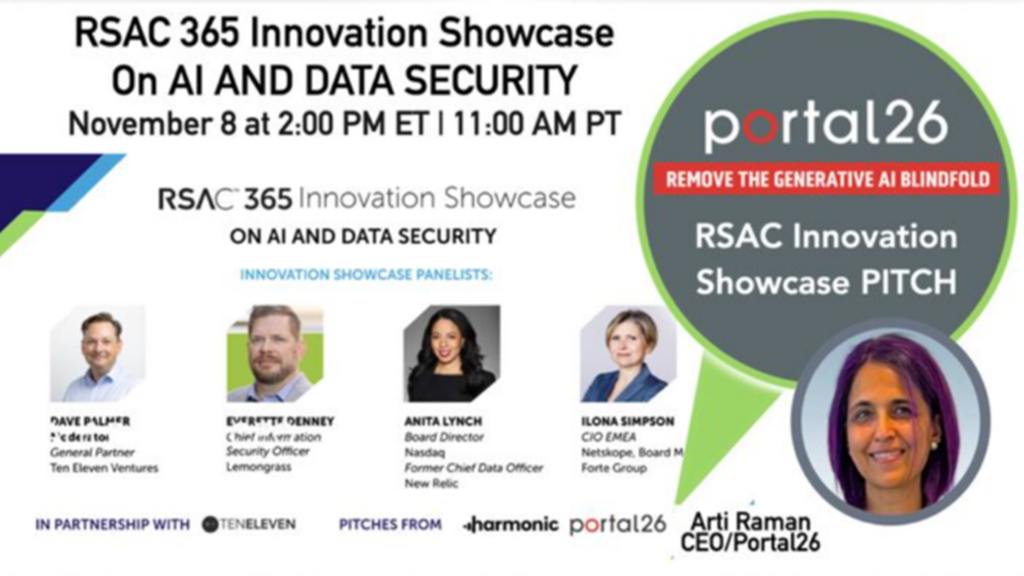 Gala 2023 Awards Ceremony
Dine, Drink, and Data Security - Portal26 at RSAC2023